What is Hyperlocal Marketing?
The term 'hyperlocal' is gaining in popularity, and a slew of hyperlocal firms focused on food, grocery, and other services are springing up all over the place. Obviously, there's something to this word. Please allow us to enlighten you.
In layman's terms, the term 'hyperlocal' refers to or is focused on issues affecting a tiny community or geographical area.
Many firms promote on a city or area-wide basis, but for many advertisers these days, it isn't enough. Some of them look for clients within a few feet, blocks, or streets.
This isn't to say that they're blind when it comes to their business or that they're destroying it by focusing too narrowly – they're actually smart because they're targeting clients in their natural habitats, such as at work, at home, in adjacent stores, and so on.
So, in this post, we'll cover all you need to know about hyperlocal marketing, including how and why it's so effective, how brands can use it, and which brands are doing it well.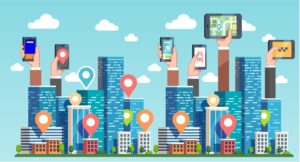 What is hyperlocal marketing, and how does it work?
In layman's terms, hyperlocal marketing is the practice of focusing on customers in a very specific geographic area. One can choose a place that is far away from their current location or one that is only a few blocks or streets away.
Customers who are seeking for something specific and conducting "near me" searches on their mobile devices are subjected to this behavior.
When visiting a new place, there are occasions when we are in a hurry to find anything, such as a cyber cafe to print documents, ATMs, grocery stores nearby, hotels/motels nearby, or points of interest nearby. A hyperlocal search or marketing is exactly this straightforward technique.
Hyperlocal Marketing's Advantages:
Near-me searches have grown in popularity over time, with Google data showing a 130 percent year-over-year growth between 2014 and 2015. Following that, Google users looked for anything from post offices to New Year's Eve events.
When it comes to goals, hyperlocal marketing's main goal is to increase foot traffic to physical places and to use near-me searches to generate strong commercial intent. Users' search keywords, it appears, can be utilized to create leads and drive pay-per-click campaigns for businesses.
Near-me searches are already common, but advances in search technology are making them even more so. Search results that are more general in nature tend to take precedence over local searches, and they are expanding 150 percent faster than near-me searches.
This has also led to the observation that the majority of users expect Google to automatically take their location into consideration when presenting results.
How can brands use hyperlocal marketing to their advantage?

Remember how marketing used to be done? Flyers and pamphlets were delivered on doorsteps and slid into car windshields long before television, radio, and even the internet. Because it was the raw version of 'niche marketing,' this style of marketing worked like magic and word about a specific product/service spread like wildfire. It can still provide fantastic results if done correctly, but corporations and businesses are allocating more funds for marketing activities such as running paid campaigns, utilizing the power of digital marketing, and hyperlocal marketing these days.
Hyperlocal marketing is used by brands in the following ways:
1) 'Google My Business' optimization The 'Google My Business' page is a free and simple service that allows businesses to manage their internet presence and appear on Google Search and Google Maps.
It can still provide fantastic results if done correctly, but corporations and businesses are allocating more funds for marketing activities such as running paid campaigns, utilizing the power of digital marketing, and hyperlocal marketing these days.
Prominence: Optimization for prominence should pay close attention to the finer points of the process: photos, reviews, citations, and links should all be of high quality.
2) Using Keywords with a Geographical Scope
Location-based keywords are required in both offline and online stores since they let users relate to their places. Your keyword should include not just the city name, but also the name of your neighborhood or district.
Keywords can also be used in product descriptions, company profiles, service delivery zones, and other areas, and they will appear in the headlines and content of your sites. If it's complete and sounds odd, you might be searching for the wrong keyword.
This practice is crucial since it will assist Google in finding you and ranking you higher in search results.
3) On your website, include contact information.
Even if it is a tiny business or a neighborhood store, having a website without contact information is a sin. Displaying contact information is vital because, like location-based keywords, it makes one easily discoverable.
It's a good idea to place all vital information and contact information in the footer, where it will appear on every page.
4) Consistent Customer Experience Both Online and Offline
Consistency is important for brands because it creates a sense of security. Whether it's Pepsi, KFC burgers, or even Maggi, the taste is consistent, making it irresistible to customers.
January 17, 2022
Categories: